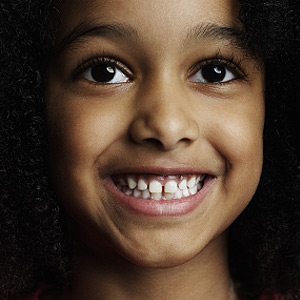 It's easy to view your child's primary ("baby") teeth as less important than the permanent teeth replacing them. They're temporary — the last of them will give way around ages 10 to 13 — so why go to extraordinary lengths to save them if they're decayed?
Although relatively short in life, primary teeth are indeed important. They, of course, provide young children a means to speak and eat. But they're also pivotal to your child's mouth and facial development. A primary tooth lost early can lead to adverse effects in the permanent teeth and bite later.
A primary tooth holds open the space in the jaw for the permanent tooth as it develops below the gums. When it's ready to come in, the roots of the primary tooth dissolves (resorbs), allowing it to be lost. If they are lost too early, though, it can disrupt this spacing, especially for a back tooth. If this happens, adjacent teeth can move or "drift" naturally into the open space, greatly increasing the chances of a bad bite (malocclusion). The permanent tooth may then come in the wrong position or perhaps not at all, setting up the need for costly future orthodontic treatment.
That's why it's better to save the tooth if we can, even employing a modified root canal treatment for deep decay if necessary. If, however, the primary tooth is lost prematurely due to disease or trauma, we can still attempt to preserve the space left behind. One way is to install a "space maintainer," a metal orthodontic device that prevents adjacent teeth from moving into the space. This will still require constant monitoring and extra care to prevent the device from dislodging.
The best strategy for preserving primary teeth is, of course, prevention. By establishing daily brushing when the first teeth appear in the mouth, coupled with regular dental cleanings and checkups twice a year and a diet low in sugar-added foods, you can reduce the risk of dental disease. Further prevention with sealants or topical fluoride can also strengthen young teeth.
Keeping primary teeth healthy will help ensure they'll continue until they've served their purpose. In the end they'll set the stage for a lifetime of healthy teeth.
If you would like more information on caring for your child's primary teeth, please contact us or schedule an appointment for a consultation. You can also learn more about this topic by reading the Dear Doctor magazine article "Importance of Baby Teeth."